Car repairs Glasgow ~ Car repairs Hillington ~ Car repairs Paisley ~ Motor repairs Renfrew
Repairs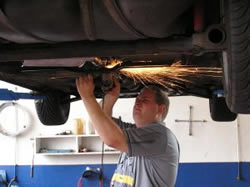 Our highly trained technicians are equipped to repair most types of vehicles from budget to top of the range.
All repairs carry a no quibble guarantee on parts and labour.
All prices quoted are net of V.A.T.
All parts remain the property of Craig Orr Motors until paid for in full.
We can carry out repairs on all makes of cars including: Alfa Romeo, Audi, BMW, Chevrolet, Chrysler, CitroŽn, Fiat, Ford, Honda, Hyundai, Jaguar, Jeep, Kia, Land Rover, Lexus, Mazda, Mercedes-Benz, Mini, Mitsubishi, Peugeot, Renault, Saab, Skoda, Subaru, Suzuki, Toyota, Vauxhall, Volkswagen and Volvo
The majority of our clients are based in Hillington, Renfrew, Paisley and Glasgow.
Our car repair centre is situated 5 minutes from Braehead, Makro and Ikea.
There are 2 train stations (Hillington West and Hillington East) in walking distance allowing many of our customers to drop off their motor vehicle and commute to work in Glasgow city centre.
Additionally there is also an excellent bus route outside the garage